Kids Boost Immunity: Donating Vaccines Worldwide
Kids Boost Immunity (KBI) is a Canadian non-profit educational initiative that offers online resources for schools and interactive lessons for kids. Materials have been developed by teachers in support of UNICEF CANADA and as part of the initiative, kids and schools can compete with each other by taking quizzes that earn points and vaccines for children in need. The program is made possible through a partnership between the Public Health Agency of Canada, the BC Ministry of Health, the Public Health Association of BC, and the BC Centre for Disease Control.
the challenge
Creating a Learning Management System
We were already working with the Public Health Association of BC when they approached us about a new project: to build the Kids Boost Immunity e-learning platform. Their objectives were:
for students to build their knowledge about immunity and vaccines
for teachers to facilitate learning about the importance of vaccines worldwide within the classroom setting
for students to improve their medical literacy

To create a system that both teachers and students would be encouraged to use, we knew we needed to build something visually appealing, intuitive and accessible. It also needed to be robust as there were over 500 resources to be organized and managed.
Client
Public Health Association of BC
Service
Strategy
User Experience
Design
Development
Image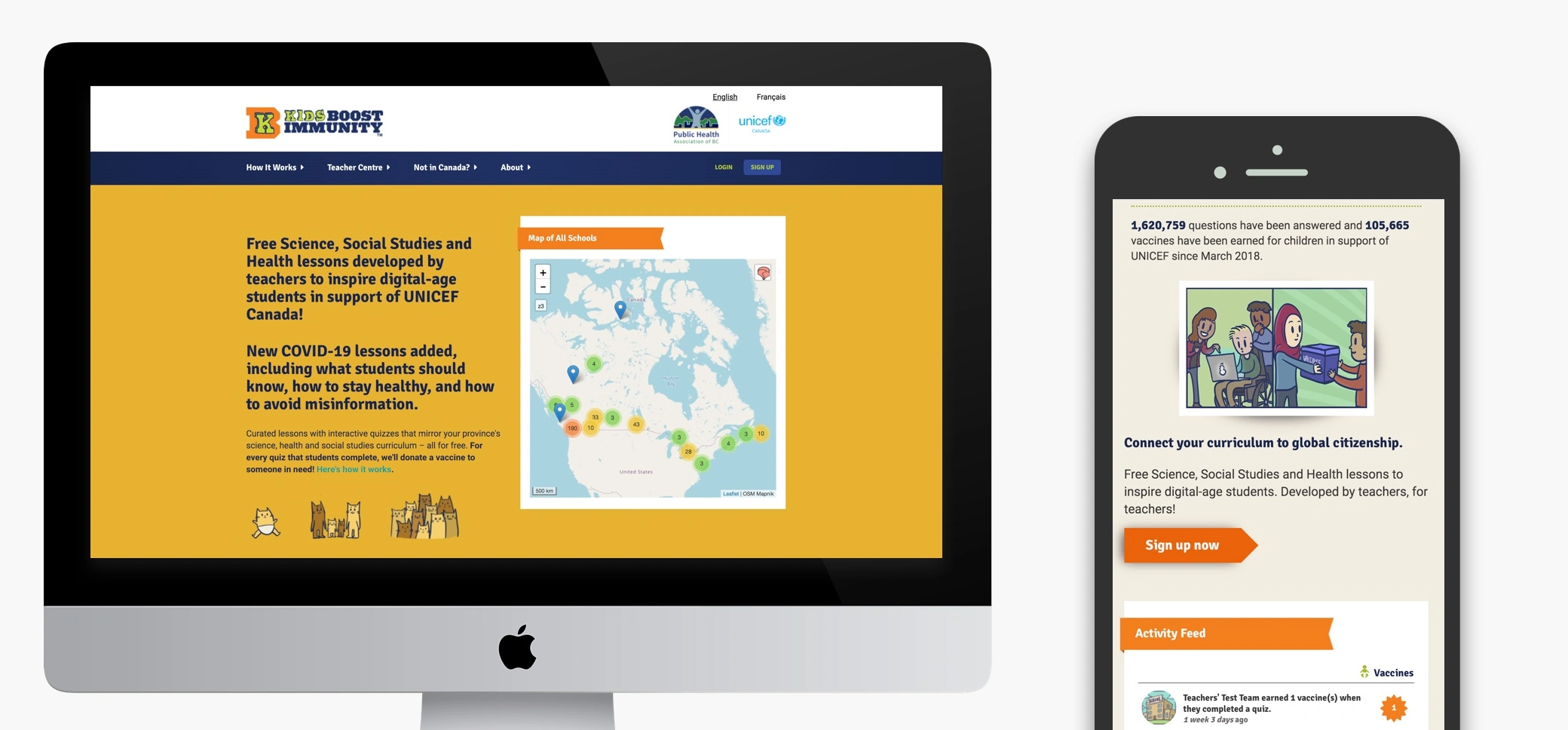 the solution
Interactive healthcare education for an international audience
The design and build of KBI's website required detailed technical planning and a robust platform to support the extensive collection of quizzes and free lesson plans that were developed collaboratively by educators and healthcare professionals. We leveraged the Quiz module as part of the Drupal build. This module offers teachers the ability to register their class and students individually and as a group and also provides for some friendly competition against each other and other schools. Students also earn vaccines for UNICEF Canada by participating in these quizzes, directly linking their educational achievements to a global context.
Our work with the Public Health Association of BC has expanded over the years, including working with the KBI team to make the platform bilingual. Initially a BC-only initiative, the KBI site is now national and international, including a pilot program conducted in Scotland. The educational information provided by initiatives like these proves to be critical as we continue to see the importance of global access to vaccines.