Vancouver Mural Festival: An App for Connecting Through Art
Vancouver Mural Festival (VMF) is an independent non-profit organization that is dedicated to the artistic and cultural development in our city. Formed in 2016 with a vision to transform the way art is experienced in Vancouver, VMF has evolved from a grassroots street festival into a world-class, multi-media art consultancy and production agency. VMF produces the annual Vancouver Mural Festival and VMF Winter Arts events. To date, the organization has created over 300 murals and continues to reimagine public art and events.

Service
Strategy
User Experience
Design
Development
Image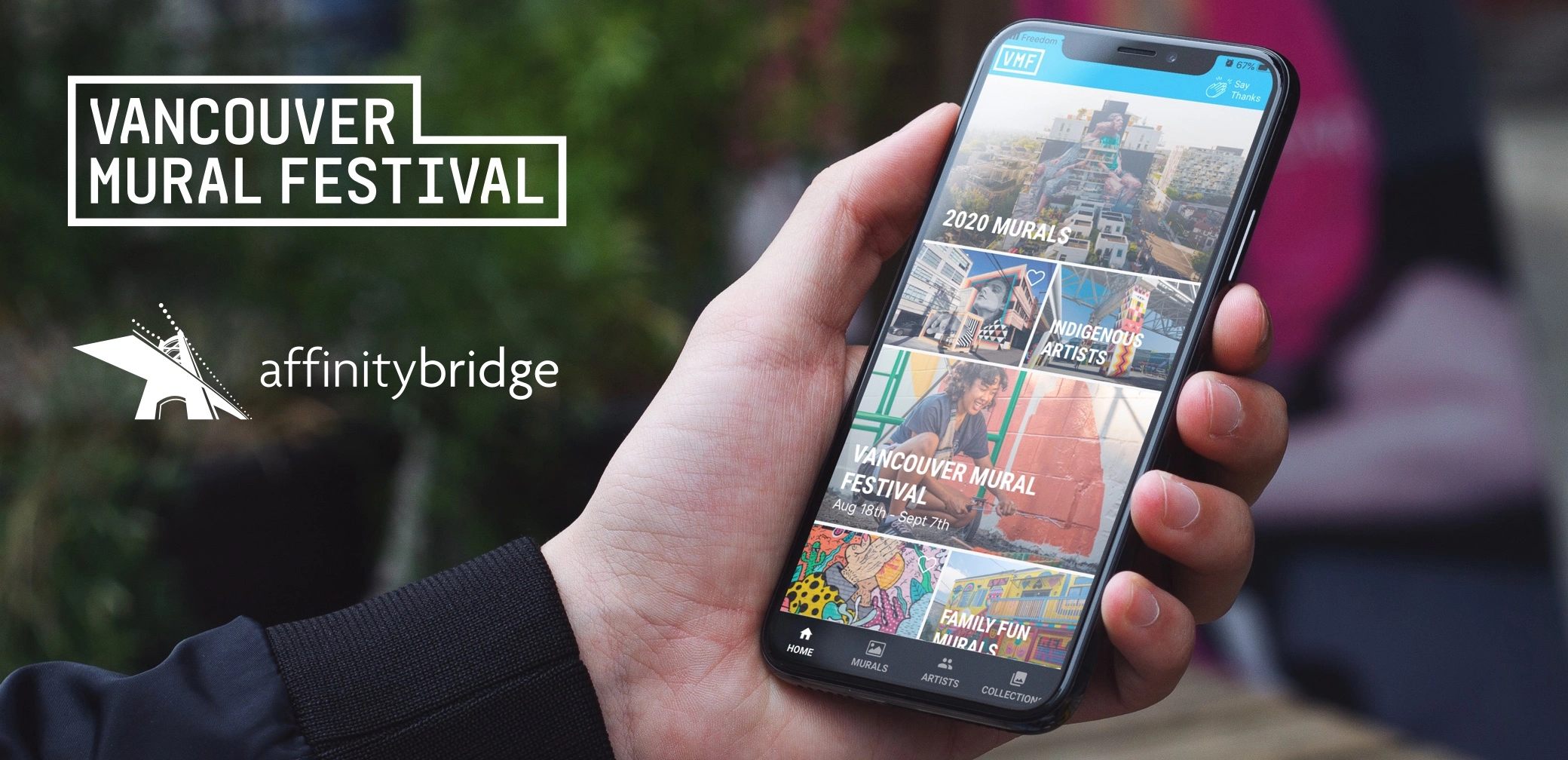 the challenge
Supporting users on the ground
Building an app for the Vancouver Mural Festival presented an exciting opportunity for our team. With hundreds of murals around Vancouver, their history, the artists' stories, and the locations were challenging to find or piece together. As Vancouver is Affinity Bridge's homebase, many of us have seen these incredible installations on mural walks and understood how the addition of an app would offer a more comprehensive tour.
To maintain a rich user experience, the VMF also needed a simple back-end that would make it easy to update the artists, create their own tours, and select murals to feature.

our solution
Easy-to-use app for all
We worked with Vancouver Mural Festival to design and build a custom content management system (CMS) limited only to the required fields, content types, and functionality they required. This reduced complexity for their team and made adding content straightforward.

This CMS provided the backbone for a front end that was designed to feature selected content when users opened the app by using a custom tile layout. The interactive map and searchable galleries make it easy for folks to find murals and learn about the artist, their history, and the stories behind their works. We also added functionality that allowed for connections to be made between the artists, their murals and the app users.

Given that many visitors to Vancouver do not have enough access to mobile data and rely on wifi, it was essential for users to be able to use the app and interactive map features while offline.

Image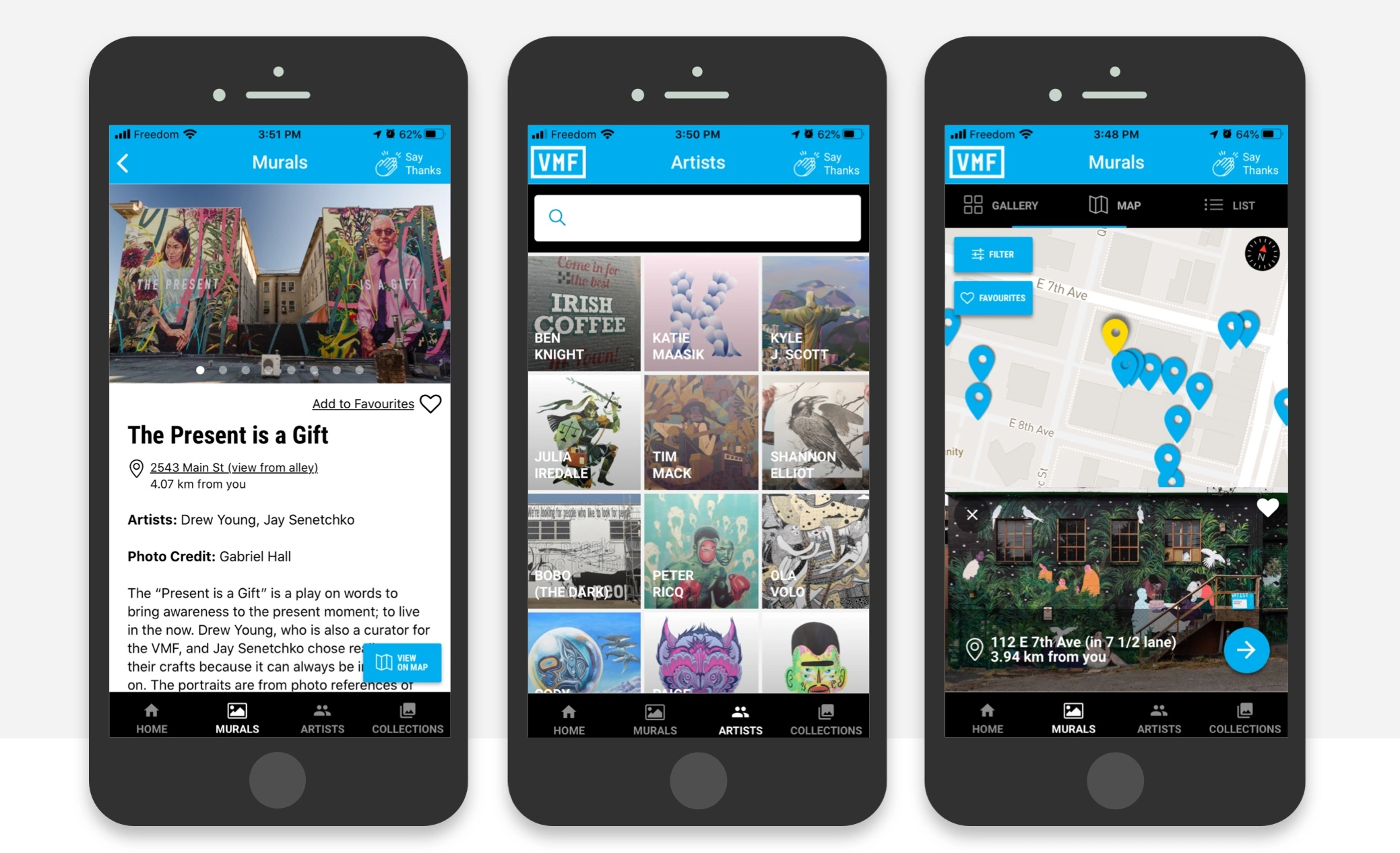 Bringing users content they want
Taking the feedback from the facilitated discovery process, we started wireframing and moved into design without delay. We sought ongoing feedback from the VMF team and had regular communication and presentations along the way. Vancouver Mural Festival has a strong brand and their team had great ideas for the app and how it should look. Many elements in the app are the result of the strong collaboration between Affinity Bridge and VMF.

The new app allows users to view murals in a gallery, add them to a favourites list, find them on a map, create their own tours and learn more about the mural history and the artists behind them.

Delivering a rich experience
To help users effectively search for murals, even if they don't quite know what they are looking for, we built a system that filters by mural style, location, or year. We also implemented targeted optimizations, allowing the app to deliver results incredibly fast.

Accurate mapping was also a key priority for the app. Many murals are on the backs of buildings, in laneways, or in alleys which meant that it was important for us to find a reliable geolocation solutions. While the pins on the map are remarkably accurate, we added a customizable text field with each mural to help guide users if needed. Ultimately, the app is a beautiful and engaging extension of the VMF brand and the immersive art and entertainment opportunities they create.