Aboriginal Legal Aid BC: Connecting Communities
Aboriginal Legal Aid in BC (ALABC) is an initiative of Legal Aid BC, a charity and non-profit organization funded by the provincial government. The organization provides legal aid for Aboriginal people in British Columbia and helps them to understand their legal rights by providing relevant information and connecting communities to legal support.
the challenge
An overwhelming experience
Legal Aid BC approached us to address issues with their positioning and website experience. Visitors typically accessed the site in times of distress and needed to find support quickly. The site presented a high volume of information that was difficult to navigate, used overly technical language and was generally overwhelming.
The team also identified a need to clarify the breadth of their services and audiences. Their name implied to many people that access to pro bono lawyers was their primary offering. It also did not express their focus on supporting Aboriginal people.
Sector
Social Justice
Indigenous
Image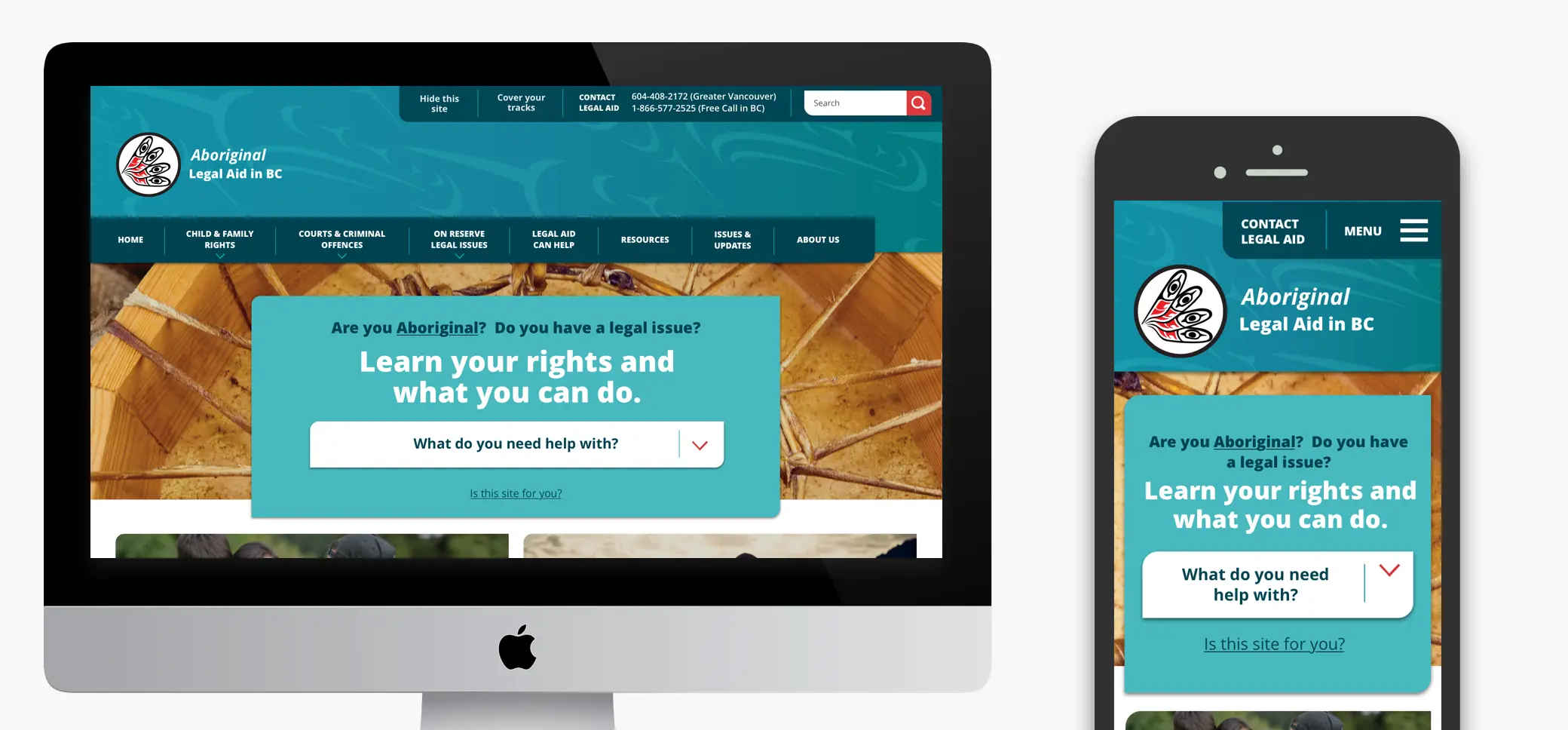 the solution
Language matters
To design and develop the new ALABC website, Affinity Bridge collaborated with Agentic, a digital media agency that works with social change organizations. Agentic conducted extensive user research studies with the target audience to identify pain points and key areas for usability improvement. From this, we learned that the legal language being used on the site was above the target reading level. To make the content digestible and to follow accessibility best practices, all of the site's content was rewritten using plain language.
A revitalized design
Affinity Bridge's role on the project was to take the learnings from the user research studies and apply them to the design and structure of the new Drupal site. We focused on mobile and accessibility to ensure that the connection to support services would be available regardless of how users visited the site.
To support the introduction of the name Aboriginal Legal Aid in BC, it was important for the website to integrate culturally-informed imagery and graphic elements. Photos featuring Indigenous families were selected, and we worked with a local Indigenous artist, Ronnie Dean Harris, to create artwork for the header and footer. We also used calm and uplifting colours with more visuals and less text.
Ultimately, the new ALABC website is warm, inviting and a much more useful resource for their audiences.