Appetite to Play: Raising Healthy Children
Appetite to Play is a BC-wide initiative led by Child Health BC to promote healthy eating and physical activity in young children. Dedicated to improving the health status and outcomes of children from birth to 5 years old, Appetite to Play offers programs and resources for parents, caregivers and service providers including online training, activities, recipes and meal planning.
the challenge
Needing to reach across audiences
For the initial engagement, Appetite to Play needed a website that their audiences could easily navigate to find specific resources, planning tools and training opportunities. We were tasked with planning and building a site that streamlined content management, allowed for highly structured content types, integrated a modern, filtered search for browsing resources and delivered a mobile-first user experience.
With the success of the original initiative, new challenges arose when it needed to expand to reach new audiences. There was no clear path for the new users to follow and filtering capabilities needed to be more advanced. Digital accessibility was also a priority, with the need to ensure that new components would be easy to read and use, clear calls to action.
Service
Strategy
User Experience
Design
Development
Image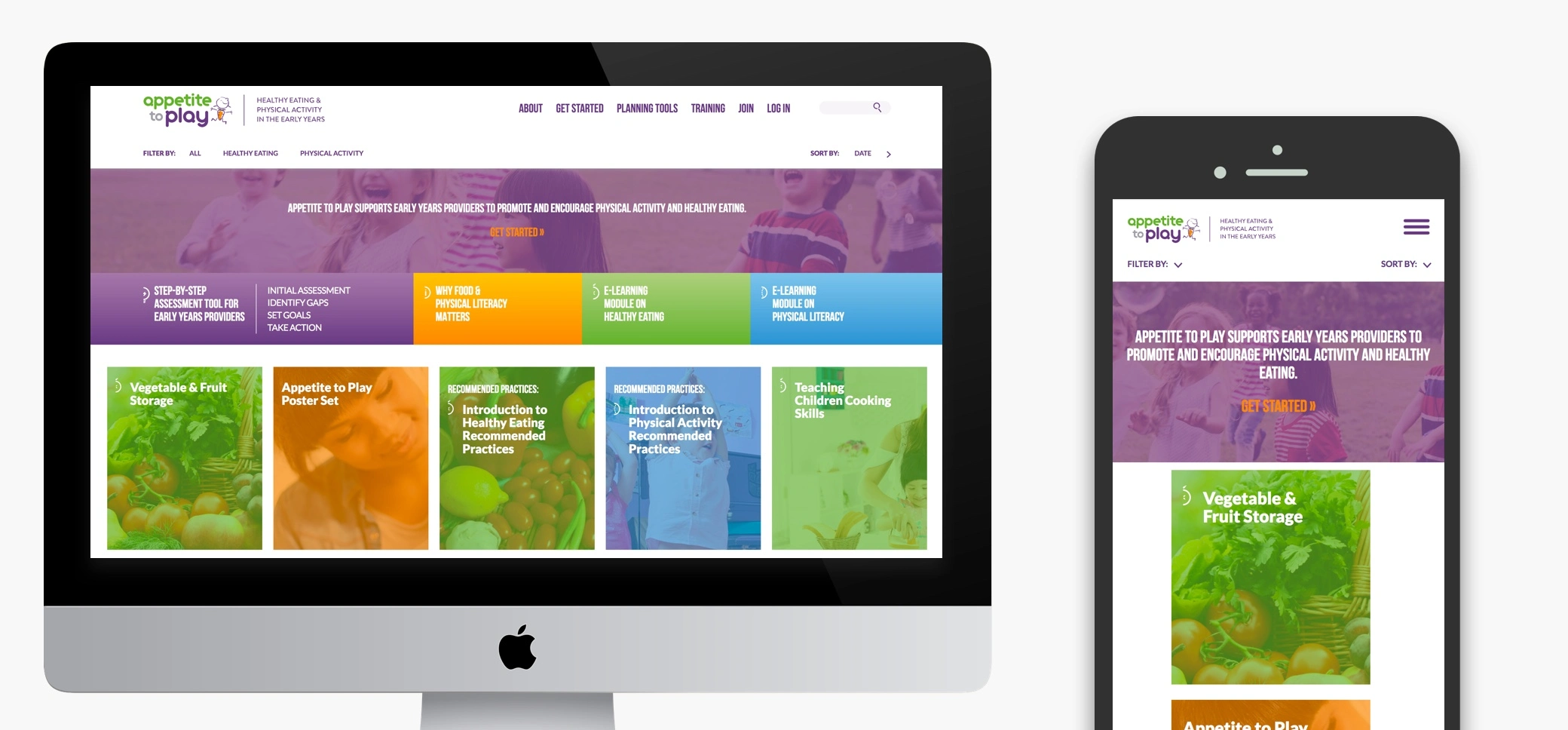 the solution
Presenting learning alternatives to meet diverse needs
We custom-built the Appetite to Play site in Drupal, using the robust platform to deliver a cohesive and comprehensive offering for their growing audience. We collaborated with the team at Child Health BC to implement a search functionality that is easy to use and allows users to filter for resources and interactive planning tools.
Online training courses can be purchased by individuals or by groups in bulk, and users can also register for live online workshops. Offering these learning alternatives lets people work at the pace and in the style that suits them best. These customizations help to serve the needs of a wide range of people and are fundamental aspects of accessibility, bringing together best practices in universal design and respecting diverse needs.