The Great Climate Race: Energetic Environmental Activism
The Great Climate Race was a walk/run event series that enabled participants worldwide to crowdfund for local renewable energy projects. With their commitment to climate justice, the founders, Ben West & Mari McMillan, wanted to spread awareness and raise funds for solar energy solutions.
the challenge
Addressing serious issues
Climate change is a serious issue, and environmental activism is often equally weighty due to the harsh realities of this global concern. Ben and Mari felt they could approach The Great Climate Race differently by bringing the empowering energy of people racing together with climate activism, to create a new, fun and inspiring way to take action.
We were presented with the challenge of designing an exciting brand while finding the right technical solution to support this movement. The new brand needed to reflect both the urgency of the climate issue while also maintaining the uplifting and compassionate atmosphere of the running community. It was also important for the brand to be inclusive and welcoming of runners and non-runners alike, as well as folks who did not see themselves as engaged activists.
Service
Strategy
Branding
Design
Development
Image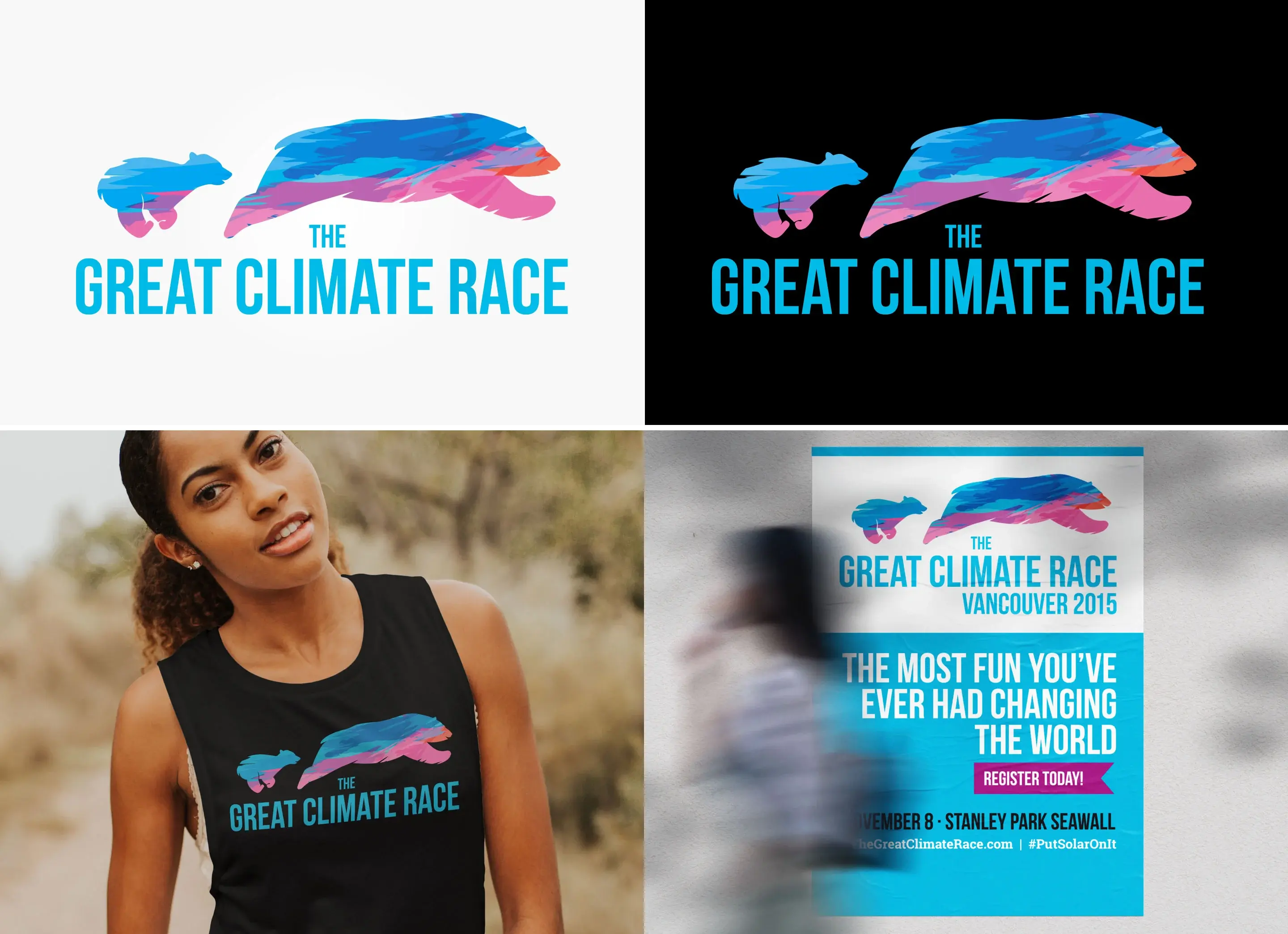 our solution
Introducing an optimistic brand
For the first phase of the project, we focused on brand development. The brief required that the brand be clearly related to climate, but in a way that would make people feel energized and inspired. Our concept was to introduce two polar bears, a mother and a cub, racing each other.
Polar bears are iconic symbols of climate action, and also are likable mascots that are fun and playful. The presence of a cub in the logo brings in a family element, and helps convey the inclusiveness of the event to appeal to a broad audience. The design itself conveys movement and exuberance. It uses a carefully selected colour palette that is evocative of an arctic sunrise, connoting a new day and the possibilities for change.
Image
Image

Technical solutions for the win
After consulting on various technical combinations of features and functionality that The Great Climate Race needed, we settled on NationBuilder and Rallybound.
NationBuilder provided the content management system and the backbone for relationship management for race organizers and volunteers, while Rallybound was the social fundraising platform. This solution was a win for their internal team and participants alike, providing a way to easily manage content, while also allowing participants to successfully fundraise, create and join teams, and share their progress with friends.
Image