Movement of United Professionals: Driving Social Justice
The Movement of United Professionals (MoveUP) is a progressive, member-driven union that protects members' rights and empowers them to unite for better workplaces, communities and society as a whole. After starting small in the 1930s, they currently represent over 14,000 members in private and public sector companies across Canada. They are Local number 378 of the Canadian Office and Professional Employees Union (COPE SEPB) and part of an extended network of labour organizations at a national level. Their services include labour rights advocacy and bargaining, employee representation, job evaluation, health and safety advice, and legal counselling.

the challenge
Moving on from a dated design
The MoveUP website was built on a version of Drupal that was reaching end of life when their team engaged us. They were looking to incorporate a new brand identity and direction onto the new site, requiring an overhaul of user experience and design.
The old site's backend was built to serve an organizational structure that no longer existed. The information architecture was ineffective and visitors were unable to find the resources and information they were looking for. It was also not responsive and the poor overall experience was negatively impacting their SEO results and lead generation campaigns.

Service
User Experience
Design
Development
Image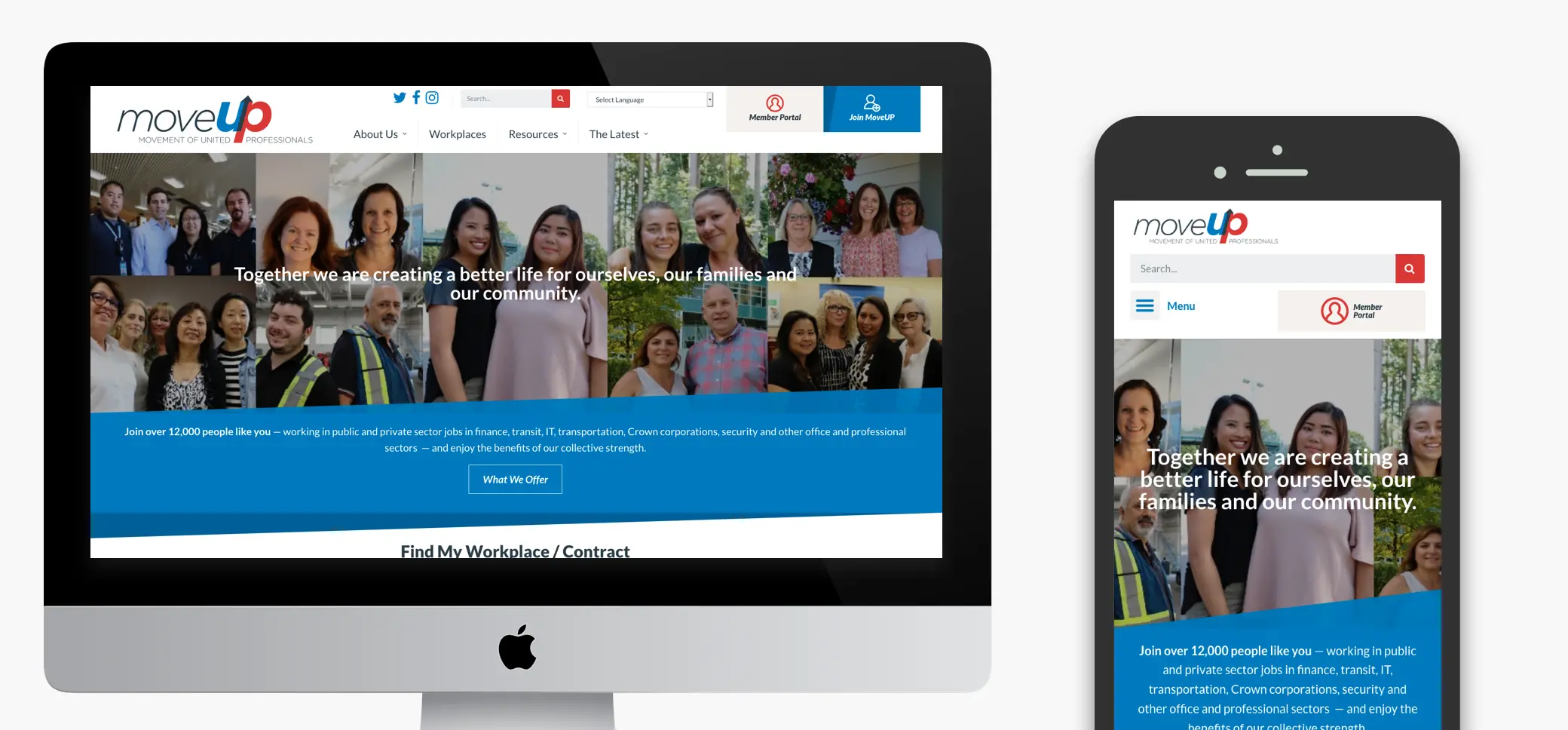 our solution
Prioritizing engagement
MoveUP identified that they needed a new website to reflect their new brand and its foundational elements, while further enabling MoveUP to reach out to, and empower, their current and potential members. To address these needs, we worked with them to create a more modern and visually compelling website with images and messaging that communicates the value of membership.

We began by conducting a content audit, analytics review, and consultative discovery process to gain a deeper understanding of their communication priorities, the underlying structure of their site, and the needs of their website users. We used this information to make strategic decisions around information architecture and navigation. The new layout makes it a much better user experience for their members.
Expanding the site's capabilities
Building the new site on WordPress allowed us to produce a custom, user-friendly environment for their team to provide union members with important resources, like collective agreements, bulletins and membership forms, as well as practical information about their union representatives at each workplace and their contact details.

The new site also incorporated numerous functional elements including a news section, web forms, social media and Mailchimp newsletter integration, SEO and analytics tools, events calendar and registration functionality, and a gateway for members to reach the member portal on UnionWare, their member management system. The new website delivered a refreshed brand experience that was notably improved on mobile, while engaging their members and supporters.